Mifa. Van merk naar A-merk
The power of precision
Mifa kan als geen ander voldoen aan de hoge eisen die precisie extrusie met zich meebrengen. Als je een partij nodig hebt die zorgt dat alles op de micron nauwkeurig is: Mifa biedt de oplossing.
Zoals altijd als je iets heel goed kunt: er zijn kapers op de kust die goed naar Mifa hebben gekeken en het kunstje na proberen te doen. Maar eerlijk is eerlijk: niemand kan wat Mifa kan. Het werd hoog tijd om deze top positie die Mifa heeft te bestendigen.
Begin 2022 zijn we gestart met diverse strategie sessies samen met Mifa om de positionering, doelen en kernwaardes te herzien en hier de online marketing op te laten aansluiten. Vanuit strategische sessies hebben we een nieuw marketing- en communicatieplan opgesteld, waar het echte Mifa DNA naar voren komt.
Vanuit de strategie die we samen met Mifa bepaald hebben zijn we gaan werken aan een creatief concept.
Van 300 bezoekers per week naar 300 bezoekers per dag
Mifa kent al acht jaar lang online groei, waar de oprichters van Stradigi al sinds 2014 aan bouwen.
Mifa is enorm gegroeid op het gebied van websitebezoekers, van 20.762 in 2021 naar 27.409 in 2022
De conversies zijn met 8% toegenomen ten opzichte van 2021
Er staan 117 zoekwoorden in de top 5 van Google, waarvan 32 in Nederland en 48 in Duitsland
Er staan 193 zoekwoorden in de top 10 van Google, waarvan 47 in Nederland en 57 in Duitsland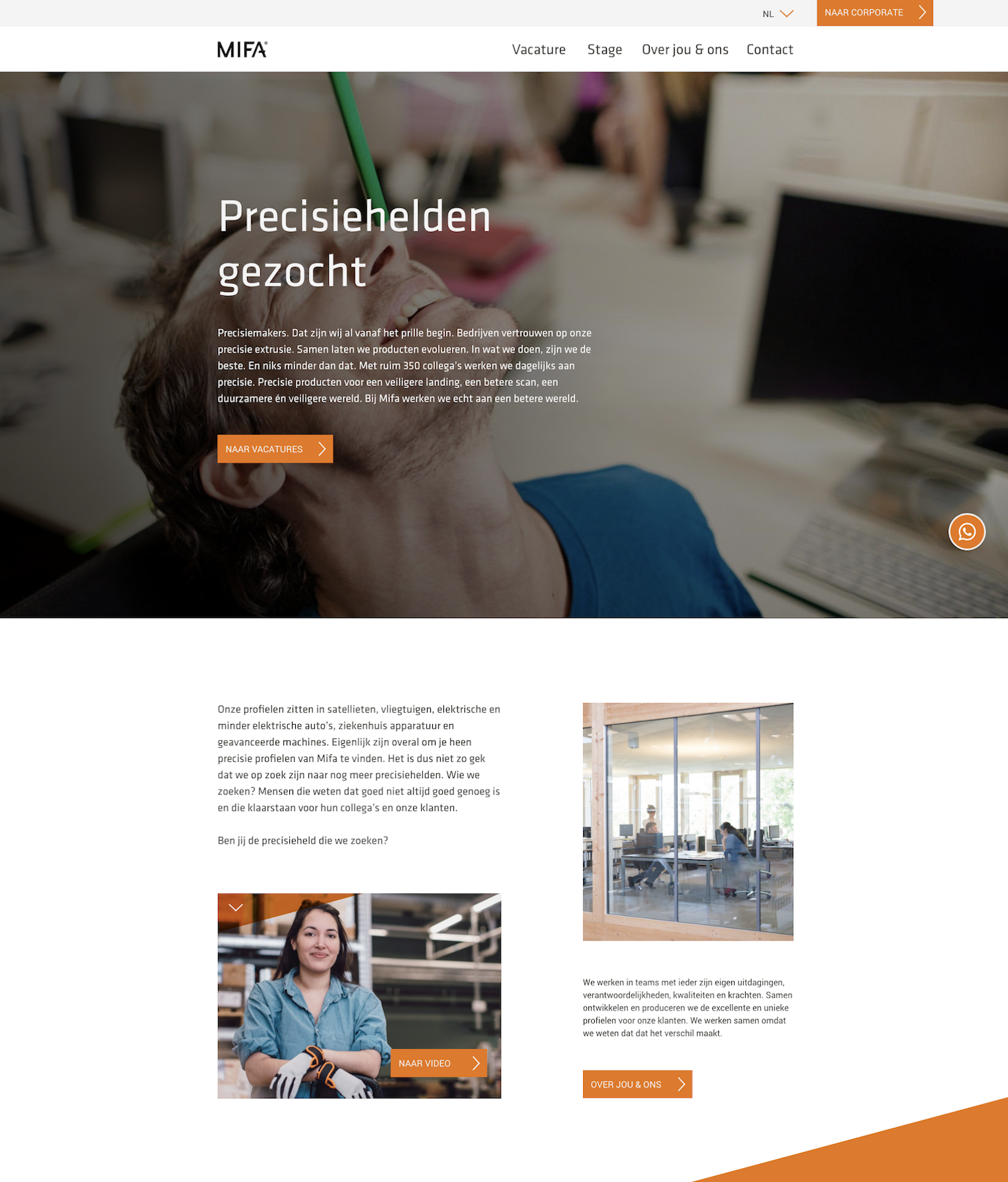 Employer branding website
We hebben een gehele employer branding strategie voor Mifa opgezet en uitgevoerd. Voor de arbeidsmarkt zegt the power of precision precies dat wat je in mensen zoekt. We zoeken niet zomaar werknemers, maar precisiehelden.
Het concept past bij wat Mifa doet en bij de mensen die bij Mifa werken. Buiten dit project ontwikkelen we de website voor Mifa inclusief SEO-werkzaamheden, marketing automation, etc. We ontzorgen Mifa op het gehele online marketing vlak en zijn vaak een adviserende partij.